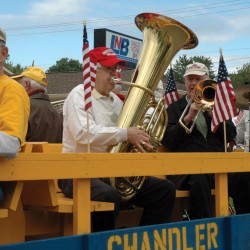 Chandler Celebration Days will be held Friday and Saturday, Sept. 19 & 20. It's expanding this year to include a new event: the Chandler 8K run, 1-mile walk, and Kids' Dash, to be held Saturday morning.
The celebration kicks off as usual, though, with the Chandler Celebration Days Pageant Friday night at the Chandler Community Center. Divisions include: Little Miss/Mister, Junior Miss/Mister, Teen Miss/Mister, and Queen. Contestants will participate in a brief interview. Winners should be available to participate in the Celebration Days Parade on Saturday at 11 a.m.
On Saturday, the 8K will begin the day's festivities at 7:30 a.m., followed by the 1-mile walk at 7:35 a.m. The Kids' Dash will begin at 9 a.m. All races will start at the Chandler Free Will Baptist Church on North Fifth Street. Medals will be given to the first three places in nine age divisions for both men and women participating in the 8K, as well as the first man, woman, boy, and girl to finish the 1-mile course. Registration information can be found here.
The Celebration Days Parade begins at 11 a.m. at the Chandler Town Hall. The parade will lead the way to the Chandler Sports Park & Community Center, where food, games, and activities will be available. In addition to a car show cruise-in and BINGO games, there will be a Corn Hole Tournament this year. Back by popular demand are the Paper Airplane Contest and the Spaghetti Eating Contest. Chandler Police Department will be doing a K-9 demonstration, as well. Food includes the famous Chandler Lions Club pork chop sandwiches, hamburgers, hot dogs, taco boats, chicken and dumplings, ribbon fries, ice cream sandwiches, puppy chow, peach cobbler with ice cream, and more.
The theme for this year's Celebration Days is "Community Service" in honor of the grand marshal, the Chandler Lions Club, and its 10-year anniversary.
More information about Celebration Days events can be found on the Chandler Kiwanis Facebook page.