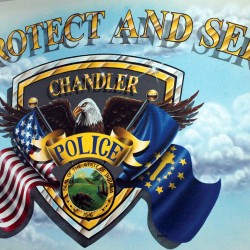 The Chandler Police Department is seeking applicants to fill the following open position: Police Officer. Applications will be accepted until 2 p.m. on Friday, May 8.
For details on the application process and requirements, click here. A downloadable application is available here: Chandler Police Department Application for Employment.
Additional questions may be addressed to Chandler Police Chief Robert L. Irvin by email or during normal business hours (Monday through Friday, 8 a.m. to 3 p.m.) at 417 E. Jefferson Avenue, Chandler, IN 47610; 812-925-6898.
It is the goal of the Town of Chandler Police Department to recruit the most qualified persons, without regard to race, color, religion, sex, national origin, or disability, to serve the citizens of Chandler as police officers.